It is Still 54% Cheaper to Buy than Rent in Pembroke Pines
Gone are the days when meandering cows would block the two lane roads of Pembroke Pines, FL. From its humble beginnings as a remote airfield surrounded by dairy farms and pines, the city is now one of Florida's fastest growing communities and is Broward County's second most populous city.  In the 1980s, the city doubled in size but, shortly after Hurricane Andrew in the early 1990s, the city's expansion skyrocketed.
Now the city's wide boulevards are host to diverse restaurants and a multitude of shopping options from national chains to one-off family-owned shops.  While buying in Pembroke Pines is not the same as a luxury Miami condo, its options are diverse.  Chose to live in quaint affordable home in East Pines, a City Center condo, or a larger newer home west of Interstate 75.  This is what makes Pembroke Pines Florida so attractive to so many.   Luckily, right now is the perfect time to buy a home in this city since nationwide it is 33.1 percent cheaper to buy than rent, according to Trulia's recent rent vs. buy report.
In this May 2017 report, Trulia explains that it is cheaper to buy than rent in the 100 largest US metros.  However, the advantages of buying are slowly slipping away as it was 41 percent cheaper to buy than rent in 2016.  Home prices are increasing due to the healthy economy and low inventory in many markets.  The nationwide median home value rose 6.8 percent year-over-year. Additionally, the Federal Reserve is increasing interest rates in response to the strong economy, adding 0.25% percent to the prime interest rate as of June 13, 2017 and planning additional hikes before the end of the year.
Where Buying nets a Better Deal Than Renting
RankU.S. MetroMedian PriceMedian Rent
%Cheaper to Buy Than
Rent, May 24 2017
1Baton Rouge, LA$171,238$1,400-50.1%
2Philadelphia, PA$148,712$1,275-48.3%
3New Orleans, LA$176,360$1,400-47.9%
4Columbia, SC$129,134$1,150-47.8%
5Fort Lauderdale, FL$226,528$1,800-47.0%
5Charleston, SC$226,158$1,600-47.0%
7Greenville, SC$153,993$1,250-46.3%
8Detroit, MI$70,031$850-46.2%
9Birmingham, AL$130,430$1,100-45.8%
10West Palm Beach, FL$253,719$1,950-45.7%
16Miami, FL$270,598$1,990-44.4%
Note: Among 100 largest U.S. metros. A negative percentage means homeownership is cheaper than renting. For example, it's 50.1% cheaper to buy a home than to rent in Baton Rouge
Now that interest rates are higher, how much cheaper is it to buy than rent in the Miami metro or more precisely in Pembroke Pines, Florida?  In its report, Trulia assumes a 20 percent down payment and an interest rate of 4.1 percent.  Assuming that the mortgage interest rates increase the full quarter point, the new interest rate would be 4.35 percent.  Currently, the median sales price of homes in Pembroke Pines is $260,000, while the median rent is $2,350.  It is 54 percent better to buy than rent in Pembroke Pines.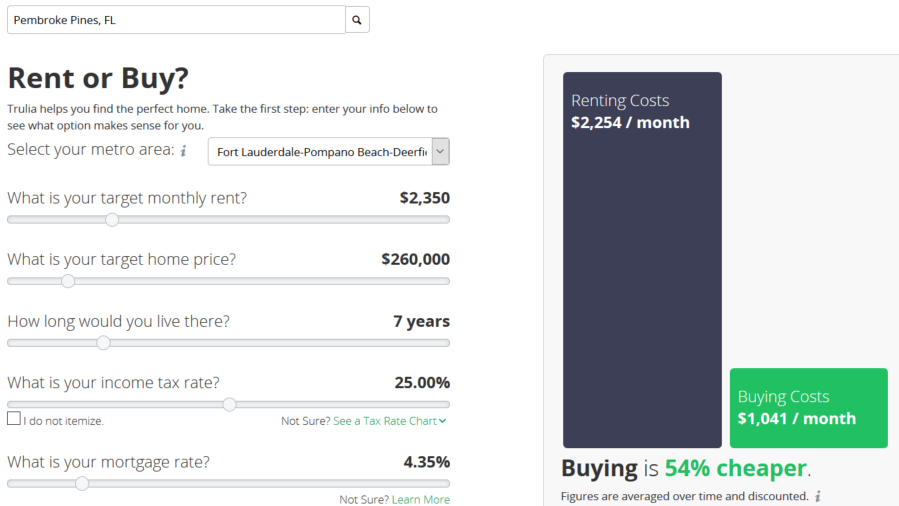 Pembroke Pines grew rapidly in the last few decades and offers something for everyone.  Potential homebuyers should not wait! Home prices in Pembroke Pines rose seven percent between April '17 and June '17 and one to two more interest rate hikes are looming before the end of the year.  To budget for your mortgage payment, stay abreast of interest rates and how much you can afford with a mortgage rate calculator.  Reach out to a local real estate expert to help you find the perfect Pembroke Pines abode.