Signature Gives Back Nails It with Habitat for Humanity®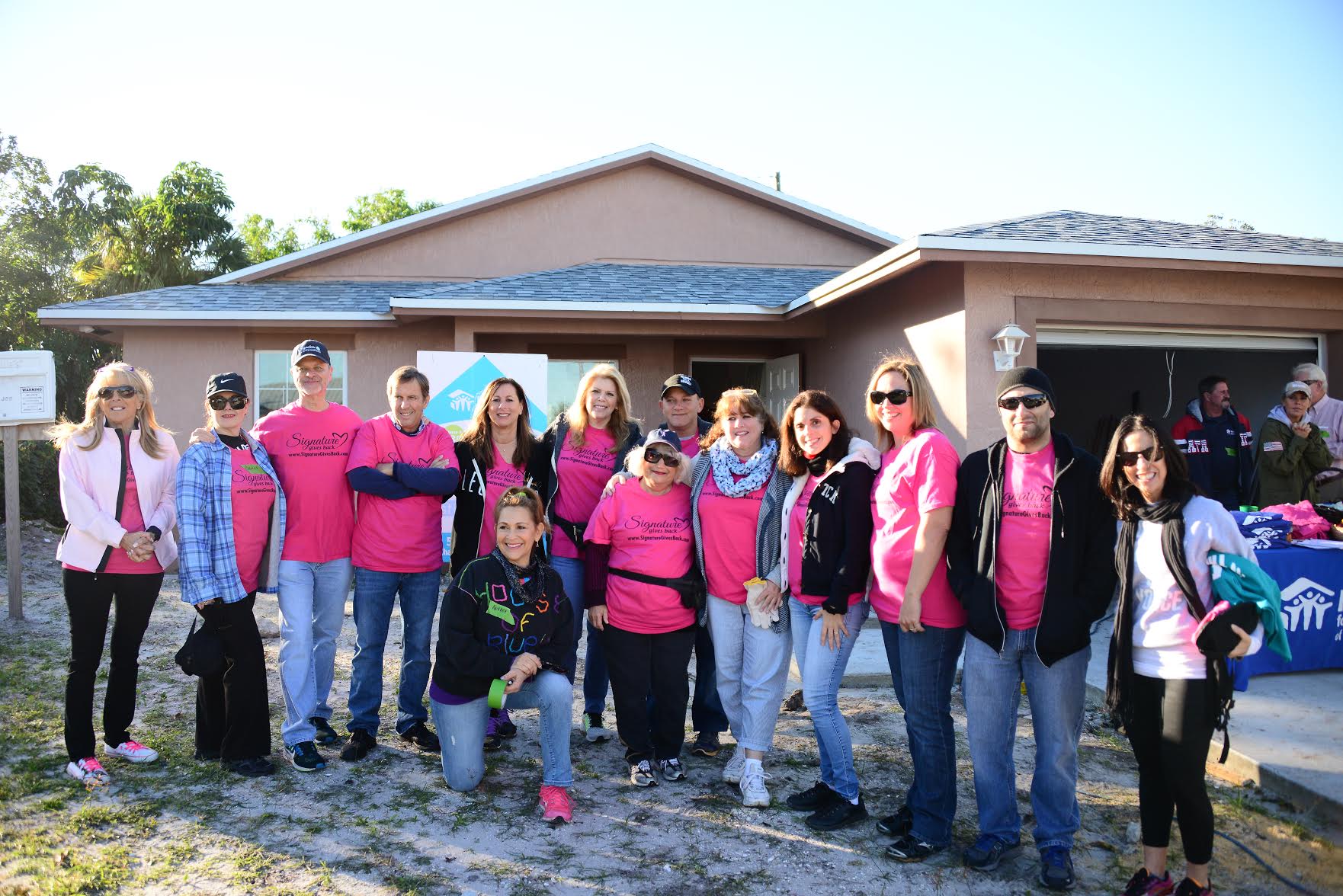 A brisk and sunny South Florida morning welcomed a team of Signature Gives Back (SGB) volunteer builders Dec. 14 to help construct a South Florida family's upcoming home, as part of the Habitat for Humanity® outreach programs. It marks the third consecutive year, SGB has been chosen to assist Habitat for Humanity® in aiding the local community by closing the low-cost housing gap.
"My favorite part of these builds is observing the intent of our volunteers to outperform what's expected of them," says Jack Jaiven, Executive Vice President of The Signature Real Estate Companies (Signature) and SGB Co-Chair. Adds Co-Chair Wendy Pressner, "They are hardworking and particularly passionate about this volunteer opportunity."
The Habitat for Humanity volunteer experience marks the first of its official volunteer opportunities since SGB's parent company, The Signature Real Estate Companies, rolled out its formal company-wide social responsibility initiative pledging volunteerism.
"Part of our 'agent-centric' approach to training members of the Signature Family is focused on creating change agents and 'connectors'," says President/Broker of Signature and SGB Founder Ben G. Schachter. "Signature's richly diverse real estate professional pool extends our potential to reach a myriad of social interests and causes worldwide."
Chief Development Officer Kari Oeltjen, of Habitat for Humanity® of South Palm Beach County, spoke at the final 2017 SGB committee meeting the day prior to the build.
"We appreciate Signature Gives Back as a group of community-minded REALTORS® who truly understand how a home can transform the lives of the Habitat-partner families forever."
Habitat for Humanity® prides its operations on building strength, stability and self-reliance through shelter. "It was wonderful to have Signature Gives Back take action and help build, fundraise and advocate for good, affordable housing for everyone," adds Oeltjen.
On the topic of housing, SGB most recently assisted two families' critical housing needs resulting from the devastation of Hurricanes Irma and Maria. SGB raised a remarkable $10,000+ to significantly subsidize the housing needs of one family with relatives relocating from Puerto Rico to South Florida.
Signature Gives Back, Inc., a 501 (c)(3) not-for-profit corporation, has encouraged hundreds of Realtors® to volunteer their time and make financial contributions to these charitable organizations among others: Boca Helping Hands, Forgotten Soldiers Outreach, Habitat for Humanity, SOS Children's Villages, Tri-County Animal Rescue, The Soup Kitchen, and Wayne Barton Study Center.
The Signature Real Estate Companies (SignatureRealEstateCompanies.com) operates more than 25 exciting real estate brokerages and has over 750 Team Members across Florida.
For more information about getting involved with Signature Gives Back, Inc. and joining The Signature Real Estate Companies, call: 561.705.0140 and visit discoversignature.com.