Signature ONE Luxury Estates Earns Boca Raton's Endorsement and Newest Top Team Member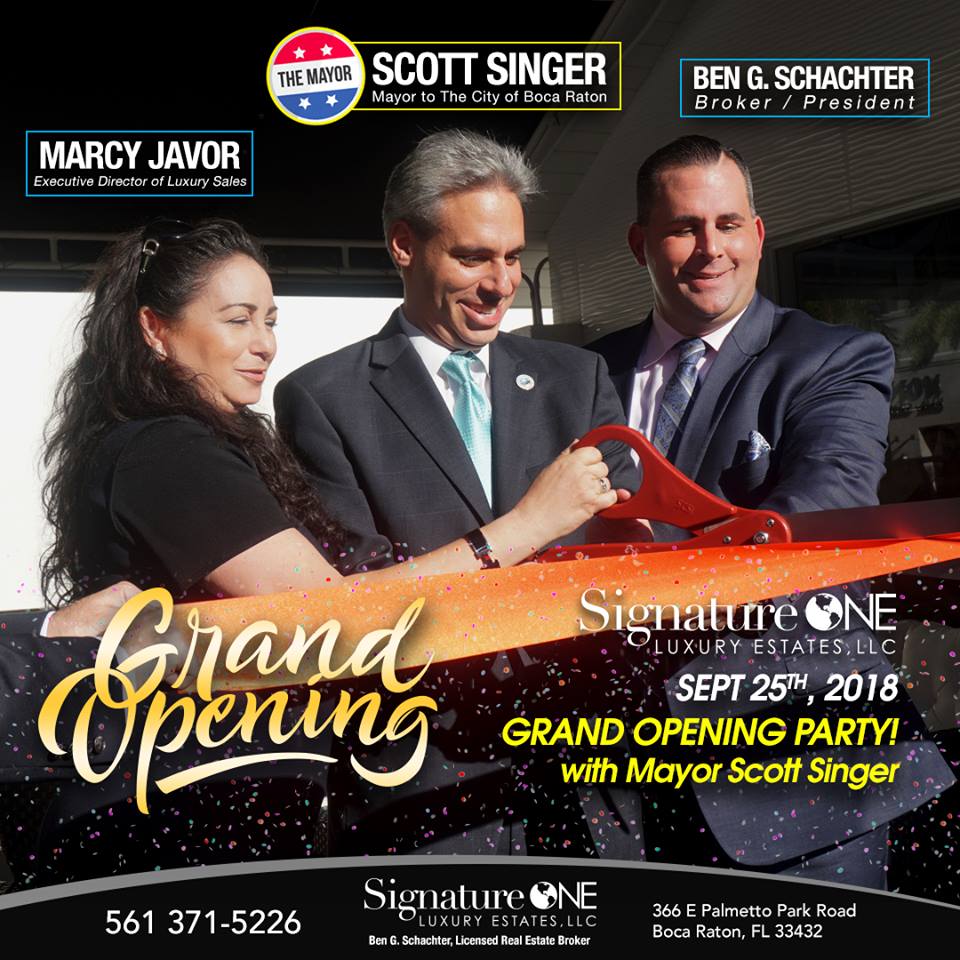 With its doors open for real estate business just two months in vibrant downtown Boca Raton, Signature ONE Luxury Estates, LLC (SOLE), a brokerage office of The Signature Real Estate Companies, earned its official welcome by Boca Raton Mayor Scott Singer on Tuesday, September 25, with a formal ribbon-cutting grand opening. Guests joined SOLE's group of a dozen agents to welcome the mayor and officially welcome the addition of newest mega-agent, Bambi Ross.
"Mayor Singer, we thank you for being incredibly supportive of our community and our city, and we're excited to be part of the downtown commerce for Boca Raton," said Ben G. Schachter, Broker-President of The Signature Real Estate Companies.
Signature One Luxury Estates (SOLE), two blocks from internationally-renowned Boca Raton Resort & Club, shares the landscape of upscale boutiques, one-off restaurants and the popular Mizner Park. Catering to the most discerning real estate clientele—in particular waterfront and international buyers, sellers and investors—SOLE has already made its mark on local real estate commerce.
"We're here to help you streamline your business and we're very happy to have you all gracing the downtown area," said Mayor Singer.
Executive Director of Luxury Sales for SOLE, Marcy Javor emphatically endorsed Ross, a broker-associate bilingual in Spanish, as "absolutely one of the most professional agents." Javor says SOLE will fortify its multi-million-dollar transactions strength with Ross' phenomenal track record.
For more SOLE information, call 561.571.9288. For all-inclusive details/opportunities with Boca Raton's #1 transactions brokerage (2017), track Signature successes at www.signaturerealestatecompanies.com.